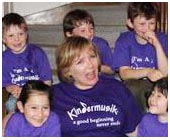 Susan Pombo
Susan Pombo earned a Bachelors Degree in Music from Binghamton University and a Masters in Music from the Peabody Conservatory. After singing in the MET Opera Chorus she was chosen to be a member of the International Opera Studio of the Zürich Opera. An engagement as soloist at the Basel Theater followed, where she performed over 20 leading roles. She is married and the mother of a son, born in 1994. Susan is a trained and licensed Kindermusik educator. She started the Basel Kindermusik program in January 2000 and is proud that Kindermusik International has again honored her for the 15th year running as a "Maestro" - the director of one of the top 5% programs worldwide.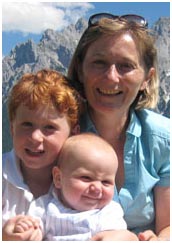 Elizabeth Bazin
Elizabeth first started to play the piano at 7 years old after being inspired by a visit to the Free Trade Hall to hear Rachmaninov's 2nd Piano Concerto. She caught the music bug and added the cello, organ and voice to the piano classes, finishing up by taking her Royal Schools of Music Grade 8 examinations in both piano and voice at the age of 16. Despite a deviation by way of a career in the law, she managed to keep up with her music by singing in various choruses and choirs and also running a recorder group in a local school. In October 2006 she moved with her husband to Basel, Switzerland where she discovered the joys of being a full time mum and the relief of having Kindermusik to go to every week! It was a natural next step to combine her music and second career as a preschool teacher by becoming a trained and licensed Kindermusik educator. Elizabeth has 2 sons that have both participated in Kindermusik with gusto. Her younger son has special needs and Elizabeth is constantly in wonder at the connection and involvement she has with him by the discovery of music through the Kindermusik program. "Come and try it — your child will amaze you, too!"
Susie Atkinson
Susie Atkinson grew up in Cambridge, UK, which gave her the opportunity to sing and play the cello and piano in musical groups in the city and the university as a teenager and a young adult. In her over fifteen years as an expatriate in Alsace, she has sung and played with several ensembles in Basel and she has now added Morris Dancing to her musical repertoire. As the mother of four children (all of whom love the Kindermusik program) Susie counts on singing and dancing to keep everyone cheerful and stress free. Susie also teaches English language prenatal classes as well as prenatal and postnatal yoga classes and provides baby sling and breastfeeding support. She loves the shared experience of music (especially song) and feels that for parents (especially those a long way from their home country and mother tongue) making music together can build amazing support and lasting friendships. Susie holds a BA honors degree in Anthropology, Philosophy and Classics from Durham University, and a diploma in education from University of Worcester.